7.14.1 Engineering and administration control measures in healthcare settings
Controlling exposures to occupational hazards, including the risk of infection, is the fundamental method of protecting healthcare workers.  Below is a graphic specifying the general principles of prevention legislated in the Management of Health and Safety at Work Regulations 1999, Regulation 4, Schedule 1. It details the most to the least effective hierarchy of controls and can be used to help implement effective controls in preventing the spread of COVID-19 within healthcare settings.  NHS boards and NHS staff should employ the most effective method of control first.  Where that is not possible, all others must be considered.  PPE is the last in the hierarchy of controls.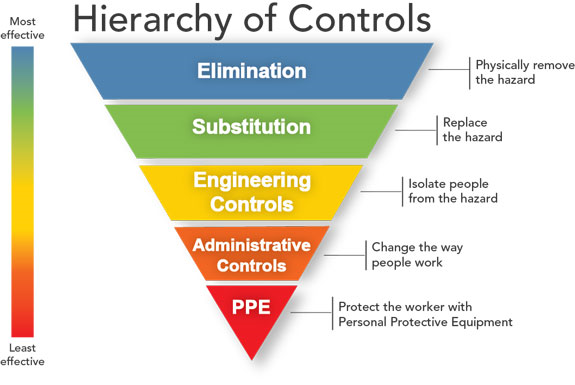 Hierarchy of Risk Controls graphic //commons.wikimedia.org/index.curid=90190143 (original version: NIOSH Vector version: Michael Pittman)
Application of the hierarchy of control in health and social care settings is as follows;
Elimination

Patients must not attend for an appointment if they have symptoms of COVID-19 or have been advised to self-isolate; unless a dedicated area/pathway can be used
Staff must not report to work if they have symptoms of COVID-19 or have been advised to self-isolate
Staff who can work from home should be supported to do so
Consideration should be given to non clinical staff who typically enter clinical areas as part of their job role and alternative arrangements made wherever possible

Substitute

For any patients presenting with respiratory symptoms in keeping with a suspected or confirmed COVID-19 definition – perform consultations over phone as far as possible rather than in person

Engineering controls

Installations of partitions at appropriate places (e.g reception desks)
Physical distancing in all areas of the premises (see section 7.15) 
Efforts made to reduce number of people on premises at any one time
Reduce waiting time for individuals in in waiting areas, e.g. practices, clinic and radiology departments
Avoid face-to-face waiting arrangements in waiting areas where possible
Improve ventilation by opening windows on the premises, whilst maintaining comfort 
Optimal bed spacing and chair spacing (see section 7.15.1) 



Administrative Controls (more detail in section 7.15.1) 

Working from behind or at the side of the individual (no face to face close contact)
Development of pathways/one way systems/dedicated assessment rooms on the premises
Use of various COVID-19 related signage
Provision of additional hand hygiene stations
Increased cleaning. 

PPE

Use of face coverings (although not classed as PPE) by patients and visitors – in healthcare they can be provided with a Type IIR mask
PPE when a risk assessment indicates this (see PPE section of this addendum).
7.14.1 Engineering and administration control measures in healthcare settings
Boards and departments should apply administrative controls to establish separation of patient pathways and minimise contact between the pathways. 
Due to the wide variance in the lay out, structure and fabric of NHS facilities across Scotland it is not possible to be descriptive in exactly how these should be applied and full assessment should be undertaken locally. 
The following bullet points provide guidance which boards and departments may use when considering how best to develop pathways and promote 2 metre physical distancing.
Signage on entry to buildings, wards and departments advising of the necessary precautions to take (face coverings, hand hygiene, physical distancing) including advice for visitors not to enter the premises if symptomatic of COVID-19.


Ensure signage is clearly displayed to clearly identify pathways. Floor markings may also be used.  Physical barriers may be used where appropriate to prevent cross over of pathways.


Ensure there are adequate hand hygiene facilities (wash hand basins or alcohol based hand rub stations) available including the use of posters promoting hand hygiene and detailing the effective method for doing so.


Where required, facilitate the use of screens to reduce exposure risk, for example at admission desks or help desks.
Screens may be used in clinical care areas to help segregate patients however installation of these must not hinder the ability of staff to observe their patients and must be assessed by fire officers and health and safety teams first to ensure all other regulations remain compliant.
There is limited evidence supporting the use of partitions for face-to-face interactions or between bed spaces, but it appears logical that a physical barrier can reduce contact between individuals and reduce the spread of infected particles from an infective source.
Full bed length, floor to ceiling partitions are likely to be the most efficacious in preventing transmission of COVID-19. Partitions for face-to-face interactions, as a minimum, should cover both individuals breathing zone which encompasses a radius of 30cm from the middle of the face.



Ensure areas are well ventilated where possible – open windows if temperature/weather conditions allow